March 4, 2013 in crafting, DIY, indoor decor
Months and months and months ago, I snagged three tablecloths and two packs of napkins on clearance at Target, AKA Mommy Utopia. They were all from the discontinued Dwell Studios line, and I planned to use the yellow in my master bedroom (pillows made and tutorial here!) and the aqua/gray in the living room. I love the geometric designs and the bold size of the patterns on both tablecloths.
And the curtains for my living room are finally done!
They've actually been done for a while–I've been living with the results for the past month and a half or so, and I just love the finished product. I followed Kelly's tutorial for making back-tab lined drapes over at View Along the Way, and I love the way the back tabs make my drapes look almost pleated–they certainly dress this little corner up! The design you see on the panels actually ran down the center of the tablecloths, so I carefully measured and cut right down the center of those, then flipped the panels around so the design would be on the outer edges and the white border would run down the middle of my windows.
I also hung my curtains nice and high above the tops of the windows for more drama, so I added the small panel of aqua at the bottom using old curtain panels that were no longer hanging in my house. These are all lined with cut-down queen-size white flat sheets from Wal-Mart, so the cost for these custom, thick panels was around $15 each for four panels. Not bad!
I realized as I was staging this little corner for these photos that this area of my home perfectly reflects my decorating philosophy of combining high-low pieces with some DIY thrown in to create a truly personalized, comfortable space for my family.
I found this chair by the side of the road while we lived in Spokane where my husband was going to law school. I was in my "must have every trendy photography prop possible!" stage and the "ugly chair" trend was going strong. (There are also some unfortunate images from this period of my then-baby stuffed in a giant teacup planter from Wal-Mart that I went to four different stores to find. I'm so sorry, Natalie.) Check out what it used to look like!

One of my friends there is Spokane was a master furniture re-upholsterer, so we worked out a photo/re-upholstery trade that was awesome! So the chair is definitely a low-cost portion of this corner (I think I paid around $30 for the fabric, five years ago).
I've seen these little ceramic garden stools everywhere from West Elm and Z Gallerie to Pottery Barn and I rarely browse through a blogger-curated collection at Joss and Main without finding another variation. This little beauty cost me $15 at my local Ross–another low! The down-insert pillow is from Marshalls–I believe it is a Ralph Lauren design, but I pulled the tags off so I'm not sure on that.
The lamp base is one I've also had for years, and the drum shade is a Target clearance find (are you sensing a trend in what I'm willing to spend on?).
On my little drum stool I always keep a little bowl (this one's from Anthropologie) for dropping my jewelry and random memory cards in, since this is my computer work corner. For some reason, I just can't work with earrings. Or a necklace. Or a jangling bracelet. Drives me batty!
So far, we've got the low cost chair, pillow, side table, and accessories and the DIY curtains–you may be wondering where the "high" is, It's the other beauty on the chair–a throw from Anthropologie that was not even on sale when I bought it.
Judging by the throws currently on the website, mine at $100 is not as big of a splurge as it could have been, but it was a big splurge for me. It's dreamy soft and combines all the colors I love into one piece, something I've been struggling to find in pillows for the last 6 months or so. Granted, I've threatened my kids with dire consequences if they leave this blanket on the floor, but two months later and it's still looking good and in great shape. I can't keep things in my home that are only "look-don't-touch" items, so this throw has worked perfectly for snuggling on the couch during family movie nights.
So there's how I think and decorate in my home–I go as inexpensively as I can with as many pieces as I can, then splurge to make a statement. How about you–are you a save-all-the-way kind of girl? Do you enjoy DIYing pieces for your home? Or would you rather just walk into a few stores and buy all the things you need?
Linking up with Not Just a Housewife &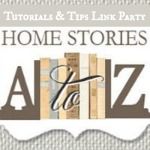 Pin It